There is a large variety of typical dishes of Chile, which is being lost little by little in gastronomy.
Ajiaco (Meat soup)
This is not strictly speaking a Chilean dish; for instance, it is also found in Bogotá, Colombia. However, the Chilean version is generally done with the meat leftovers of a big barbecue, and it is good when you have a somehow mild hangover. Into the broth with the barbecued meat cut into dice, add potatoes, chopped onions, green hot chili peppers, parsley, salt, pepper, cumin and oregano. This tasty soup helps to mend the body or the hangover and to get one's strength back, whether it is to go to work or to continue celebrating whatever it is that has to be celebrated.
Arrollado huaso (Pork roll peasant style)
When a pig is ready to be slaughtered after a long fattening up, it means winter is knocking at the door of the homes in the South and so, nothing is wasted and almost everything in the animal is made use of, as to wave away the cold or to celebrate some Saint in the middle of June. To make this pork roll, or arrollado, the ingredients include pork meat pulp, slices of bacon, garlic, pepper and cumin to taste; it is then rolled in pork skin, "painting" the resulting cylinder with chili pepper sauce and tying it with string. It is then cooked in a broth while the relatives begin to arrive attracted by the tasty smell of this meal. The huaso, or peasant style part, comes from the chili pepper sauce, red and cheerful from the stove heat and the wine celebrating some local Saint.
Caldillo de congrio (Conger eel soup)
Pablo Neruda dedicated an ode to it that made it forever famous, especially in Isla Negra, where the poet lived. However, this soup is served all along the coast in Central Chile and even a little farther south of Talcahuano. Invigorating and not at all heavy, there is a variety of ways to prepare it, but it is always steaming hot and served in a clay dish, accompanied with mussels and clams in addition to a good white wine to honor it.
Carbonada (Vegetables and meat minestrone-like soup)
It is a very traditional winter stew of the Chilean cuisine. There are versions of this soup in other cuisines of Latin America and here in Chile, it is prepared with potatoes, pumpkin, carrots, green beans and varied seasonings, plus meat cut into small pieces. It is served in a soup dish with abundant broth sprinkled with parsley.
Cazuela nogada (Cazuela stew with walnut sauce)
The cazuela is not an exclusively Chilean dish, but in the El Almendral area, in the province of Chacabuco and close to Los Andes, they make the Poultry Cazuela with Walnut Sauce. It is an ingenious and invigorating dish to help survive lovesickness or too long celebrations, or otherwise to recover from a long trip.
Chancho en piedra ("Pig on stone" spicy tomato sauce)
Originated in the Maule region of the Central zone of Chile, it contains crushed tomatoes, onion, garlic, oil and salt. It was created out of farm work, when laborers ended their farming activities and washed their shovels in a canal in order to crush the tomatoes and the other ingredients with a stone. In this mixture, a large biscuit given by the ranch was dunked. One bread per laborer together with the snack at the ranch entrance every morning. The crushed mix on a stone was then brought to a table on a concave volcanic stone. The phonetic deformation of the crushing (chanco) slipped into pig (chancho). It is served all over the Maule region, in some cases accompanying sopaipillas (see description), kneaded bread and fresh or white cheese.
Chapalele (Potato bread with flour)
Although another typically Chiloe Island preparation, it can be found in many of the meals of austral Chile due to the migrations of the Grand Island people to the mainland in the Magallanes region. Very similar to Milcao, the difference is that you have to add two eggs and flour, next the mixture is cut into squares and cooked in the curanto clambake or deep-fried in copious pork lard.
Charqui de caballo (Dried horsemeat)
Charqui is dried and salted horsemeat. The Spaniards came to America bringing garlic and charqui, and in Chile, it was prepared with the meat of the oldest horses during the Conquest, especially for the winter, when the cattle was too thin to be slaughtered.
Chorillana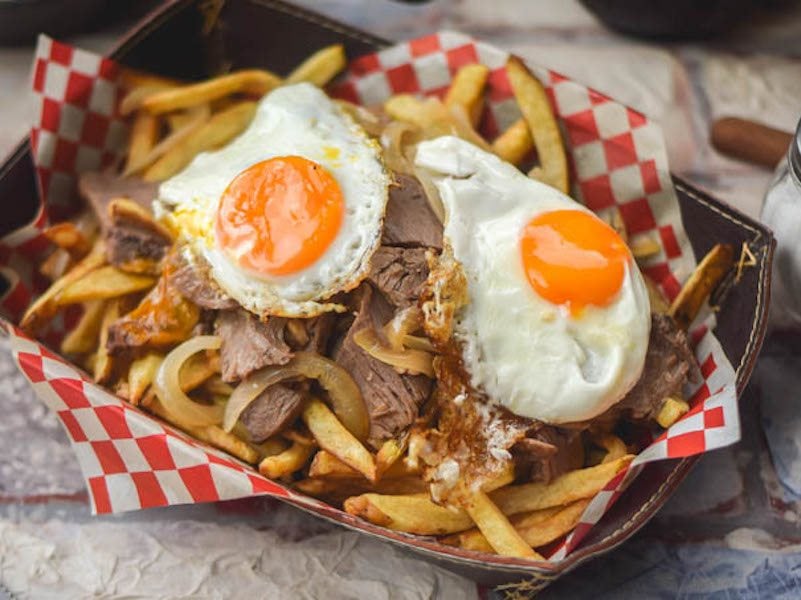 Born in the harbor of Valparaiso, this dish is made with French fries, finely cut onion, spicy sausage, beefsteak and, crowning it all, one or two fried eggs. At the "J Cruz M" traditional restaurant of the harbor, this cholesterol-rich meal is served on Saturdays and Sundays, very appropriate if afterwards you are planning to climb up one of the hills of Valparaiso. Don't cheat, go up by foot and then come down in a funicular.
Chunchules con harina tostada (Intestines with toasted wheat flour)
Made with the innards of cow or pork, stuffed with meat paste and animal fat, the chunchules are braided and then fried with hot chili peppers and served with steamed potatoes. The ones with toasted flour are first sprinkled with the flour before frying; they are crisp and tasty. A dish overflowing with cholesterol prepared only in the coldest of winter days.
Curanto en hoyo (Clambake)
A typical meal from Chiloe Island, curanto "in the hole", means hot or cooked stone. This is precisely the way to make this preparation: make a hole on the land in which you light up a fire to heat the stones. Then layer by layer, you put different kinds of meat, fish, seafood and potatoes, coating everything with large gunnera leaves and sealing the whole thing with more hot stones. The recipe is a traditional one, but there are no exact or precise indications about quantities or ingredients because, as it is a collective meal usually used to celebrate mingas or community tasks to help each other, it depends on the number of participants.
Empanadas de pino (Traditional baked turnover pie with a meat and onion filling)
Originated in the Arabic gastronomy and passed on to the Spanish peninsula, empanadas cover almost every Latin American gastronomy; however, it is in Chile where the pino filling was born, containing finely chopped onion, diced meat, hard-boiled egg and raisins. The Sunday empanada is a tradition very few Chileans can resist, even less if it is caldúa (a somehow soaked filling) and spicy, juices oozing down to the elbow, served with a good red wine of the year, young and bright like the pino
Ensalada a la chilena (Chilean style tomato salad)
With a couple of ripe tomatoes and a medium size onion cut in juliennes or fine slices you can make this typical dish that accompanies the potatoes and meat of a barbecue, and when the budget is a little on the feeble side, this savior salad makes sadness and hunger to go, as well. It is not served in fine restaurants, only in well-crowded typical eateries called "picadas", where patrons eat their meals with a generous, fresh fermented young wine called "pipeño".
Ensalada de digüeñes (Cyttaria fungus salad)
The digüeñe fungus (cyttaria) grows in the southern beech trees from August to September, mainly in the South of Chile. It is white and round. The salad includes coriander, oil, onion, salt and optional lemon. It has a gelatinous texture and it can be served with beans-and-spaghetti or some other stew at the end of a long winter.
Gambas al Pil Pil (Shrimps in garlic)
The gamba shrimp comes from Spain, however the Chilean way of preparation transformed it. It is not a well-known dish and it is served only in some selected places. It consists of shrimp tails baked in oil, garlic and salt.